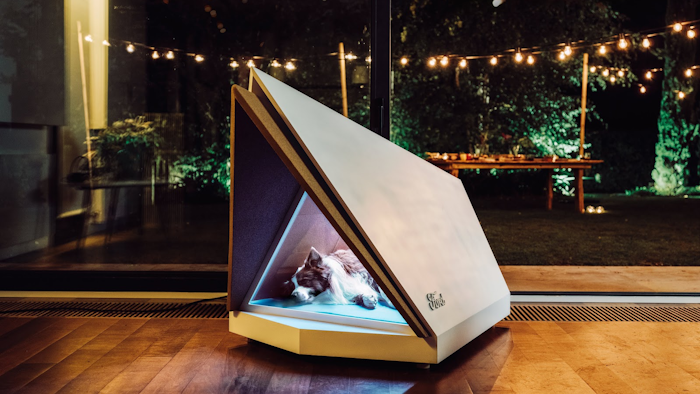 Ford of Europe AG
Engineers from Ford Motor Company's European subsidiary believe the same technology used to cancel out highway noise in its SUVs could be used to make life easier for some of the automaker's furry passengers.
The company used the approaching New Year's Eve revelry to highlight a "noise-cancelling kennel" — a prototype doghouse that could help keep pets calm during fireworks.
Ford officials wrote in a blog post that the idea was inspired by technology in the company's Edge SUV. When microphones in the vehicle detect higher levels of noise from its engine or transmission, its audio system deploys opposing sound waves to make the trip quieter.
The prototype kennel — which looks like a small camping tent — is made with high-density cork to help soundproof the structure, and, like the Edge, features a built-in microphone and audio system. When microphones catch the sound of fireworks, opposing frequencies significantly reduce the noise inside the structure.
Although the concept remains in development, Ford believes the system could one day reduce headaches for pet owners whose dogs are distressed by fireworks.
"Making sure dogs and their owners could enjoy a stress-free New Year's Eve seemed like the perfect application for our Active Noise Control system, and we have a few more ideas in progress as to how our everyday lives might benefit from a little Ford know-how," said Ford of Europe's Lyn West.