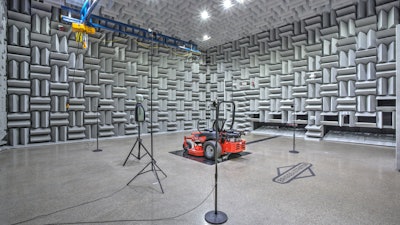 ACS Inc.
Wisconsin engine maker Briggs & Stratton renovated its laboratory near Milwaukee in hopes of pinpointing how to develop quieter lawn and garden equipment.

Eckel Noise Control Technologies recent detailed the installation of two anechoic chambers at Briggs' Noise, Vibration and Harshness lab in Wauwatosa.

The Massachusetts company partnered with another Wisconsin company, ACS, to design and build the chambers, which absorb sound waves and allow the manufacturer to analyze and adjust the noise created by household equipment. Eckel officials said the new lab is the first of its kind in the engine industry, and added that it also meets the industry's strict HVAC requirements.

"We were pleased to work with Briggs & Stratton and ACS and apply our expertise in the automotive industry to the small engine segment," Eckel Vice President Jeff Morse said in a statement.

The lab now includes a 2M chamber — which supports a two-meter microphone array — to test lawn mowers, snow blowers and pressure washers. A larger 4M chamber can evaluate lawn tractors and home-standby generators.

Both include Eckel acoustic wedges, which officials said absorb 99 percent of sound energy at frequencies of more than 100 Hz.

The companies said the chambers are "in use almost non-stop" since they began operations.