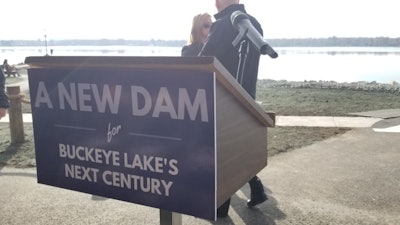 Ohio State Parks (Twitter)
The replacement for a dam in Ohio that had deteriorated to the point where authorities had said it was at risk of failure has officially opened.
Reconstruction of the Buckeye Lake dam in central Ohio was deemed necessary after a report by the U.S. Army Corps of Engineers showed the nearly 200-year-old earthen dam was at risk of failing. Republican Gov. John Kasich (KAY'-sik) and other elected officials attended the ribbon cutting for the new 4.1-mile structure on Thursday.
Kasich had approved $150 million in funding for the reconstruction. Officials said Thursday that the project was completed two years earlier than anticipated and came in at a cost of about $107 million.
Authorities concluded that several hundred homes, docks and other structures built into the original dam had weakened it.