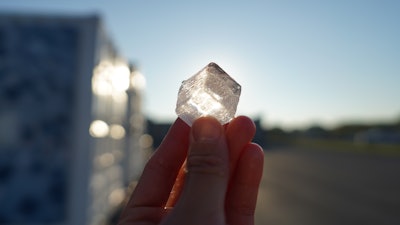 Relocalize
Editor's note: Click here to listen to the audio version of this article.
In April, supermarket company Southeastern Grocers (SEG) announced a collaboration with a Canadian startup called Relocalize. The collaboration focused on a pilot ice manufacturing project that would place one of the startup's autonomous ice micro-factories at SEG's Jacksonville Distribution Center.
Wayne McIntyre, co-founder and CEO of Relocalize, said the startup was formed to introduce hyper-local production to food systems. It began with the concept of producing food in a container, similar to vertical farming. But after exploring various applications, McIntyre discovered that his initial concepts were not economically viable.
"When you try to make a product, it's more expensive when it's sustainable and local than when compared to a mass market product," McIntyre said. "For me, that was really an issue."
After partnering with fellow Relocalize co-founder Grant Jobb, the two realized ice and beverage making offered an economically friendly environment for hyper-local production.
Most Read on IEN:
Relocalize created ice manufacturing micro-factories, or RELOs, that perform all the functions of a traditional factory but at about 5% of the scale. Relocalize also made their RELOs 100% autonomous.
The Relocalize business model envisions RELOs installed at retailers' distribution and fulfillment centers. The company doesn't charge for installation and, in exchange, asks for approximately 1,200 square feet of outdoor space, water and electrical connections that enable production. Relocalize's revenue comes from selling packaged ice to retailers at wholesale prices.
According to McIntyre, one micro-factory can produce 2 million 7-pound bags of ice annually.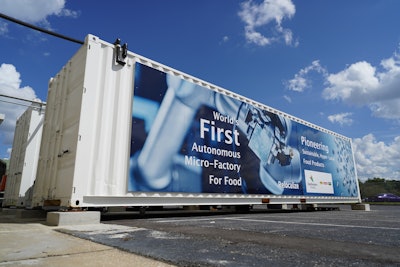 However, reducing a factory to 1/20th scale presents a series of obstacles, most notably that some systems in a typical ice manufacturing factory would not work at the microscale. As a result, the Relocalize team had to completely reimagine the production process.
"In order to make the process work, you need to simplify the process," McIntyre said. "There are about five different pieces of equipment just to make the ice. We went from five pieces of equipment to two pieces by redesigning the entire system. That simplification of the process allows us to actually make it smaller but also reduce cost at the same time."
Even though the RELOs are distributed and hyper-local, McIntyre said the company maintains labor efficiency by operating the micro-factories remotely from its Command and Control Center. The center is designed for remote recovery and fault correction and can centrally and autonomously handle most operations. However, the company employs roving technicians who can support six micro-factories for maintenance that require an in-person fix.
Relocalize's mission centers around sustainability and decentralization. The startup is developing and using technology, like industrial automation, artificial intelligence, predictive maintenance and robotics, to address the micro-factory management in a centralized factory.
But McIntyre emphasized that the transition, in its simplest form, would reduce the need for trucks.
For example, one major ice factory in Quebec serves the entire province. However, with the micro-factories in strategic locations, companies could serve packaged ice and beverages hyper-locally in their local market and reduce transportation and logistics costs.
"The environmental goals come from getting food off of trucks," McIntyre said. "That's where the transportation carbon footprint comes from. To make the trucks go away completely, not only do you need to be hyper-local, you also need to be at a key point of either distribution or fulfillment, so it goes on that one journey to the store or the one journey to the customer directly from the point of production."
According to McIntyre, Relocalize's system produces ice on demand, removing the need for warehouses at distribution centers. This helps to eliminate the "cold chain," a process that involves production at a factory, storage in a refrigerated warehouse, transportation via a refrigerated middle-mile truck, arrival at a distribution center where another refrigerated warehouse awaits and, finally, delivery to customers.
"[Retailers] simply unload the product they need when they need it from the micro-factory and send it directly to the store of the consumer," McIntyre said. "So just imagine all those giant warehouses that have to be refrigerated with a ton of energy just go away.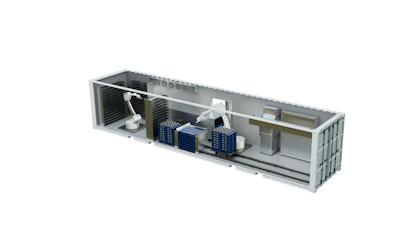 Relocalize's pilot project with SEG helped prove the viability of its micro-factories, and McIntyre said that the company recently passed the final stage of its food safety audit with the International Packaged Ice Association.
Additionally, in October, Relocalize announced that it raised $2.5 million in the initial closing of a $3.5 million seed round. The funds will be used to prepare the company's autonomous production platform for scaling.
In the next year, Relocalize hopes to deploy its next micro-factory, RELO 2.0, to retailers whose names have not yet been released. McIntyre said he hopes the new RELOs can increase the company's throughput to full capacity and its ability to mass produce the micro-factories.
The company also hopes to increase its current workforce of eight to 20 by the end of the calendar year and to boost its network of one micro-factory to 150 in the market by the end of 2026.
"The concepts we're applying work for any product with a simple input supply chain," McIntyre said. "We'll probably stay focused on ice for a while. There's a huge opportunity just in ice that we need to capture. From that position of strength, we see taking our platform into beverages and other products, primarily made with water, first. Who knows from there? We see ourselves, in the future, as the Google or Apple of hyper-local food manufacturing."