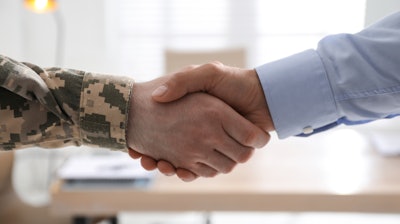 iStock
With electric vehicle production soaring, demand for EV battery manufacturing is hot. A McKinsey study expects EV battery demand to grow by about 30% by 2030, nearing 4,500 gigawatt-hours (GWh) a year globally. The battery value chain is projected to reach annual revenue in excess of $400 billion.
While the U.S. has the battery manufacturing capacity to support the creation of 10-13 million all-electric vehicles each year, it lacks the talent to support this activity. This huge gap in filling battery manufacturing jobs poses significant risk to meeting production goals and jeopardizes the U.S.' chances of becoming a global EV competitor.
One segment of the workforce not fully tapped for these roles is military veterans who have transitioned to civilian careers. Recruiting and retaining veterans for this area of work should be part of every EV manufacturer's talent acquisition strategy.
Veterans' unique qualifications for EV battery roles
The experience that veterans receive while serving in the military has many parallels to a manufacturing environment, including that of the EV sector. The military is an operationally driven organization that trains and develops its people to complete a mission. This process requires strong leadership, equipment subject matter experts and supply chain support to ensure everyone has the resources they need to succeed.
Veterans are also trained to operate and maintain some of the most advanced technological systems in the world and have an enormous amount of experience leading, operating and troubleshooting electronic, electrical and mechanical systems onboard aircraft, ships, tanks and submarines, often in stressful environments. This helps them understand the importance of safety as one mistake can truly make a life or death difference.
All of these experiences make a good match to fill EV leadership, engineering, supply chain, quality assurance and safety positions such as engineering technician, process engineer, controls engineer, warehouse associate, supply and logistics manager and field service technician.
Organizations don't need to look for EV-specific experience on veterans' resumes. The companies that will have the most success in hiring veterans will focus on their leadership skills, general technical training and the intangible skills they possess such as attention to detail, focus on safety and experience with six-sigma oriented processes.
Creating a connection with veterans
The process of recruiting veterans doesn't take the shape of a traditional sourcing strategy. Once veterans decide to leave their service, they have a transition window of 30-90 days to search for and find a job.
In many cases, this is being done at their assigned duty station – not where they plan to live after they separate. This means you must engage with them before they transition by networking and building relationships with the bases, as well as engaging in digital recruitment to create a strong employment brand that appeals to veterans.
The Department of Defense's SkillBridge program gives veterans time off at the end of their active duty service to gain additional skills for a particular industry or company. This is a great time for a company to access veterans. In order to connect with candidates this early, companies need to either build relationships with the bases or partner with organizations that already have this access.
The company can then use this time to provide basic skills that will help them succeed once hired. For EV roles, this means fine-tuning their technical and mechanical skills, among others.
Because veterans are part of the most highly recruited demographic of candidates, creating messaging that will attract this segment of the workforce is critical. High tech manufacturing, semiconductor, building automation, construction, medical device, pharma, aerospace and alternative energy are among the industries vying for this qualified talent, so companies need to give veteran candidates a reason to choose them over others.
For example, highlight the growth of the EV industry, ease of transition into the role, the support system you've put in place at your company through veteran ERGs and mentorships and the benefits that appeal to veterans.
They are accustomed to generous benefits packages in the military, with medical benefits covered at 100% and 2.5 days off per month, so keep that in mind when preparing to offer benefits packages.
Military veterans seek purpose and mission, which aligns well with the sustainability mission of EV. Inherent in the EV industry is the connection to a better, greener planet and country. Producing batteries and tech for EV vehicles is contributing to the biggest change in the auto industry in a century. Be sure to communicate your company's mission in your recruiting efforts.
The must-dos of the interview
The interview is often the biggest failure in the veteran recruiting process. While it's an opportunity for the hiring organization to effectively communicate the position, share details about the company and assess if the candidate is the right fit, many companies often miss the mark.
Most hiring managers and HR team members don't understand how to translate veteran experience into civilian roles. Since military resumes often include language that is unfamiliar to civilian recruiters, veterans are often hired for the wrong role or underemployed. If you aren't partnering with a company that offers this expertise, make sure to enlist the help of an employee who has served in the military.
The most important thing when interviewing a veteran is to ask about their experience in the following areas, noting that many of them may be outside the EV field yet very applicable to the open role:
How they have led people in stressful situations
Examples of times they had to fix equipment
Their intangible skills, such as their emphasis on teamwork, commitment to safety and ability to follow Standard Operating Procedures
Building relationships long-term
Just like all new hires, once veterans are hired, an engagement and nurturing plan must be put in place to ensure a successful transition. According to a study by VetAdvisor, nearly 44% of veterans leave their first post-military job within the first year.
This doesn't have to be the case. There are specific actions an organization can take to integrate veterans into their new role and company, even before their first day. These include:
Understand the changes they are going through as they transition to the civilian sector. Relocating themselves and possibly their family, adapting to new health insurance and understanding taxes on income are only a few of the adjustments a veteran is experiencing, all on top of starting the new job. Be aware and help them navigate these changes.
Veterans are used to an environment of training and structure. Outline for them what they can do to be productive towards the goals of the company and provide feedback along the way.
Form a military veteran employee resource group (ERG) if your organization doesn't already have one.
Pair a new hire with a veteran who's been in the workplace for a few years and can serve as a mentor.
Purposeful strategies create predictable results
Create a plan for recruiting and then retaining this highly sought-after segment of the workforce that includes accessing veterans before they transition, creating messaging that resonates with them, acquiring knowledge to better understand their experiences and implementing an effective hiring process and retention program. Veterans are ready to accept new challenges and put their expertise to work and with more veterans joining the EV battery workforce, both their careers and the industry will thrive.
---
Tim Sweeney is former U.S. naval officer and graduate of the U.S. Naval Academy. He now serves as vice president at Orion Talent.