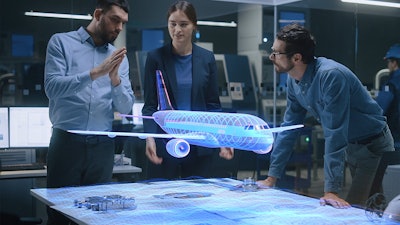 Razorleaf
Every C-level suite has a mindset or vision in place of how a business aims to roll out its products and services and acquire revenue. That view of things, and the actuality of how it happens, may entail using spreadsheets, graphs, paper, or simply human minds and memory to track ongoing efforts and launch initiatives. But these familiar yet legacy practices inevitably result in silos and gaps that slow down an organization and drain its energy and speed.
Particularly in response to current global economic pressures, we're seeing a growing trend toward overcoming some of these roadblocks by representing whatever a company does in a more holistic, digital way. This involves software that maps an organization's product development from start to finish and beyond, from initial 3D models to global sales forecasts.
The leading digital tool, Product Lifecycle Management (PLM), can reach beyond modeling and machine simulation to include inventory tracking, purchasing, manufacturing planning, field service and product-end-of-life planning—providing an encompassing view of everything the C-suite needs to wisely guide the business side of things.
Organizations adopting PLM these days are creating a more efficient software substitute for paper-based processes—the upside being streamlined collaboration, cost efficiencies, and the ability to stay abreast of product changes to avoid errors. But, while laudable benefits to be sure, these may still not be registering clearly among top-level executives more attuned to outward-looking initiatives to evolve business models, cultivate new revenue streams, and fuel growth and profitability.
Yet, in fact, PLM can serve as a springboard for such high-value business outcomes IF one regards PLM not simply as a software tool, but as a parallel mindset and agile business strategy for innovating, producing, supporting products—and capturing the reality of everything you are doing. Through effective use of PLM, organizations can establish a digital backbone for innovating new categories of products, including those that drive service-based revenue models.
PLM has the capacity to help you launch products with the potential to significantly change—and improve—how you do business. This is a language that top executives can certainly understand.
The Digital Thread Takes Shape
At the heart of modern PLM is the idea of a digital thread, a traceable connection between the physical world and digital world. A PLM-connected digital thread links all information related to a product across the enterprise and throughout its full lifecycle, starting in development, encompassing IT systems and continuing through manufacturing and field maintenance.
Having an end-to-end digital information chain means up-to-date, consistent product data is available to all relevant stakeholders, delivering substantial business value by enabling more intelligent, agile decision-making. For example, plant floor personnel could be cued to make tweaks to operations to fix a quality issue before production costs skyrocket. Procurement specialists could tap PLM data to initiate a part change that would compensate for ongoing supply chain bottlenecks. A Tech-Clarity study found top performing companies are 73% more likely to use PLM to support the digital thread.
The digital twin, a 3D model-based digital representation of a product, pushes PLM's business utility even further. The digital twin allows for simulation of a product or asset in a real-world scenario, leaning into the digital thread to provide a continuous feedback loop, including data-driven insights that fuel a variety of lucrative business use cases.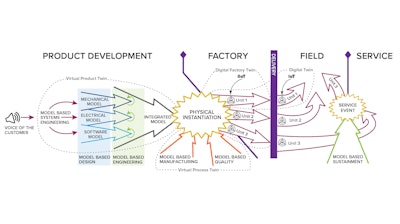 Armed with a digital twin and an Internet of Things (IoT) connected product or industrial asset, organizations can properly set the stage for preventive maintenance services for their own equipment, make design-change decisions informed on actual customer use data or, even better, create a foundation for monetizing new product-as-a-service offerings.
PLM enables the evolution of product-as-a-service
Already, this intersection between digital twins, the digital thread, IoT, and PLM is enabling the business agility that gives rise to new subscription-based revenue models. Rolls Royce is probably the earliest and most successful example, selling aircraft engines as a service through its TotalCare offering, but there are others, including Philips, offering commercial lighting as a service, as well as companies now selling wind turbine cycles, not necessarily physical wind turbines.
Kaiser Compressor, an industrial compressor company out of Germany, is another prime example. The company realized that its big manufacturing customers no longer wanted to own industrial compressors because they didn't want to deal with the upkeep, changing oil and managing other preventative maintenance measures. Here again, the use of digital twin, IoT-connected compressors, and advanced analytics enabled the company to develop a new revenue stream, selling compressed air as a service, along with preventive maintenance.
BMW is also out in front in the product-as-a-service game, offering select markets the option of buying access to seat heating services as a monthly subscription. BMW's concept is to build the hardware for such deluxe features like remote start and heated seats and steering wheels into cars, but only make them available to customers who want them through additional subscription services. BMW benefits by generating new revenue streams, and customers pay a lower upfront cost for the vehicle, securing only the high-end features they want through a subscription service.
Whether the product category is high-luxury vehicles or industrial assets, there are countless opportunities to bring the PLM mindset to bear on unleashing new business opportunities. But in order to capitalize on this trend, it's important to approach PLM as a fundamental way to better implement your vision—not a specific technology platform. Not only does a technology focus distract from the larger business outcomes, it can limit possibilities and restrict business agility by locking into one PLM vendor's outlook and set of capabilities for building and evolving the digital thread and digital twins.
How to implement your own company's PLM mindset
By working with an independent integration partner with expertise in both PLM practices and digital thread competencies, organizations can build a solid foundation for new product-as-a-service business models and longer-term PLM support strategies. An "agnostic" consultancy without specific product or vendor influences can lead a company through the transformation process, choosing the optimal tools and PLM strategies that meet specific business goals.
The right integration partner is also crucial for helping you cultivate the PLM mindset within your own organization to breed new product-oriented business strategies. A third-party partner will guide a company in defining and executing a heterogeneous vendor roadmap and data portability strategy designed specifically to promote business agility and mitigate unnecessary risk. With all the uncertainty surrounding global business these days, putting a digital infrastructure in place is a strategy bound to deliver peace of mind—and results.