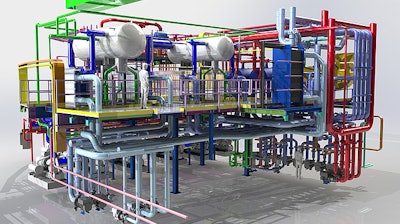 Smap3D Plant Design
Smap3D Plant Design promoted its software solutions for plant and pipeline design last week at Dassault Systèmes' 3DEXPERIENCE World & Forum 2023 in Nashville, Tennessee.
The company's software acts as a plug-in for Dassault's SolidWorks and provides a linked workflow from plant and instrumentation design (P&ID) to 3D piping and isometrics.
Chris Swaim, Smap3D's regional sales director for North America, described the software as the physical implementation of the logic and an add-in to the 3D environment.
"We require a host CAD system," Swaim explained. "In the 3D world, we're not standalone; we need SolidWorks. But we make SolidWorks better."
Smap3D's biggest global customer is Krones AG, a German packaging and bottling machine manufacturer that processes seven kilometers of pipes daily and has a backlog measured by years.
The bottling industry serves as a major North American customer as companies will purchase equipment designed with Smap3D's software in combination with SolidWorks.
Companies involved in environmental and water technology also use Smap3D's solutions for 2D flow diagrams. Additionally, 3D plant construction and pipeline isometric drawings can be used to design a variety of plants, including those that focus on gas cleaning, sewage treatment, desalination and reverse osmosis.
Other industry customers include process engineering, equipment and container construction, refrigeration, air conditioning and ventilation.
Swaim said that customers' needs drive Smap3D's development. He explained the transformation in the technology and applications as a "self-fulfilling prophecy" as customers look to better engineering processes but need improved software to make it happen.
Smap3D is headquartered in Nittendorf, Germany, and has branches in the U.S., Czech Republic, China and Hong Kong.