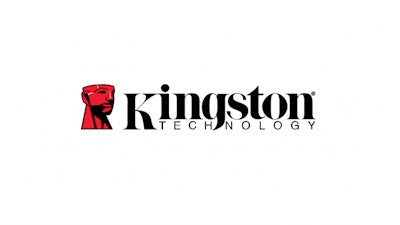 Kingston Technology
Mouser Electronics, the authorized global distributor with the newest semiconductors and electronic components, announced a new North American distribution agreement with Kingston Technology, a provider of memory products and technology solutions.
From embedded flash to solid-state drives (SSDs), Kingston products are found in homes, offices, data centers and industrial environments. Kingston's extensive portfolio of products available from Mouser delivers performance and reliability for design engineering technologies such as robotics and industrial automation, smart city and smart home, medical and communications.
Through this agreement, Mouser can now offer many of Kingston Technology's high-performance devices, including embedded flash memory, Design-In SSDs, embedded DRAM and industrial-grade memory cards. Kingston's eMMC devices are available in both standard and I-Temp embedded flash options. The devices consist of both flash memory and a flash memory controller, simplifying the application interface design and frees the host processor from low-level flash memory management. Kingston eMMC memory is an ideal storage solution for mobile and embedded applications.
Mouser also now offers the Kingston Design-In product line of SATA and PCIe Gen 4 NVMe SSDs, which deliver up to 20 times performance and are expressly intended for system designers and builders. The Design-In SSDs combine advanced controllers that automatically perform wear-leveling, garbage collection and other NAND flash management features.
The company's embedded DRAM is also available from Mouser in 1866 Mbps and 2666 Mbps rates, in 128M×16, 256M×16 and 512M×16 configurations applications such as industrial IoT, 5G networking, medical devices and vending machines.
Additionally, Mouser will offer Kingston's industrial microSD memory cards which feature an operating temperature of -40°C to 85°C, allowing them to withstand the most demanding environmental factors, from extreme desert heat to below-freezing conditions. The microSD cards implement a pSLC mode to provide top transfer speeds up to 100 MB/s and are rated up to 1920 TBW, with 30K P/E cycles and a built-in feature set specific to endurance, performance and industrial requirements.