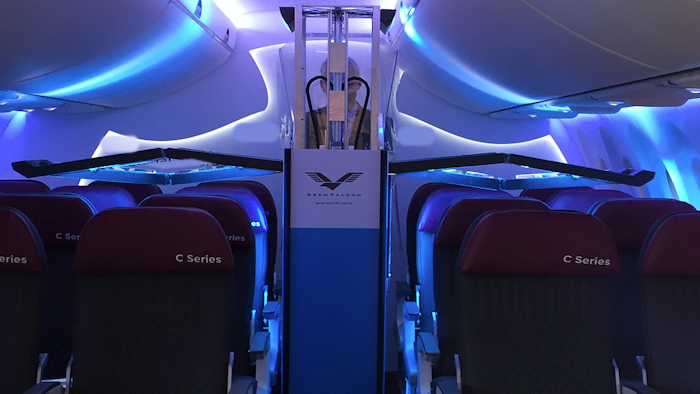 GermFalcon/Dimer LLC
The global economy appears to be entering a deep recession amid government efforts to contain the coronavirus pandemic, but a new report suggests the crisis could also press emerging robotics technologies into use more quickly than previously thought.
Consulting firm ABI Research estimates that the global market for mobile robotics will grow to $23 billion by 2021 as "social distancing" encourages the use of increasingly automated technologies.
"By the time the COVID-19 pandemic has passed, robots will be mainstreamed across a range of applications and markets," ABI senior analyst Rian Whitton predicted.
The analysis suggested governments, for example, could purchase more surveillance drones as they attempt to ensure public compliance with lockdowns and curfews.
A trio of robotics companies, meanwhile, are already on the front lines of the battle against the virus, ABI noted.
Germ Falcon, a Los Angeles company, uses UV light to disinfect aircraft interiors, while UVD Robotics in Denmark deploys a similar system to sterilize hospitals. And in Wuhan — where the virus likely originated — robots from China's TMiRob were enlisted to clean the city as it begins to reopen.
The pandemic — and its effect on supply chains — could also eventually prompt a discussion of sourcing more components from U.S. manufacturers, but the report noted that pales in comparison to the economic downturn most manufacturers are currently staring down.
"COVID-19 represents a disaster for robotics vendors building solutions for developed markets in manufacturing, industry, and the supply chain," ABI researchers acknowledged.