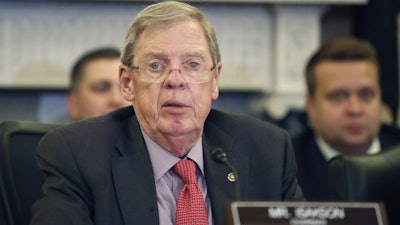 AP Photo/Alex Brandon
ATLANTA (AP) — Georgia's lieutenant governor has recruited some top-drawer names in his quest to "make Georgia the technology capital of the East Coast."
Speaking Wednesday before the Georgia Chamber of Commerce, Lt. Gov. Geoff Duncan announced a 10-member Georgia Innovates Task Force. Duncan said he hopes research, development and the roll-out of new technology can benefit not only metro Atlanta but the rest of the state.
Co-chairs will be recently retired U.S. Sen. Johnny Isakson and recently retired Georgia Tech President Bud Peterson. Other members of the group will include Federal Reserve Bank of Atlanta President Raphael Bostick and Georgia Power Co. CEO Paul Bowers.
The task force will examine education and training, entrepreneurship and start-ups, government innovation and rural initiatives. The task force will issue reports to Duncan on possible actions.