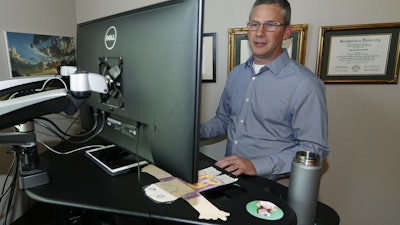 AP Photo/David Zalubowski
A new report suggests that high-wage, better-educated workers and prosperous urban metro areas could be just as affected by the proliferation of artificial intelligence — if not more so — as their lower-wage and rural counterparts.

Analysts with Washington, D.C., think tank The Brookings Institution suggested that past forecasts of AI's potential impact tended to include distinct, often-vague developments in software and automation — technologies considered likely to significantly alter lower-skill jobs.

The report issued this week, they wrote, instead sought to evaluate how AI capabilities alone — specifically, the ability to replicate tasks requiring human "intelligence," such as planning, problem-solving and reasoning — would affect the current job market.

The analysis utilized a machine learning method, developed by Stanford doctoral candidate Michael Webb, that compared job descriptions on a U.S. Labor Department database to the text of AI-related patent applications, then assigned those jobs a score based on how much they overlapped.

The report found that workers with bachelor's degrees are five times more exposed to AI technologies than those with a high school degree, while those with advanced degrees are four times more exposed. Analysts noted although AI systems are likely to impact white-collar professionals, factory jobs that increasingly require advanced education are also vulnerable.

The Brookings report also said that, for similar reasons, larger, tech-heavy metro areas and manufacturing-heavy communities would also see disproportionate effects from AI compared to smaller, more rural areas. The analysis added that because men are overrepresented in analyst and professional positions, they are more likely than women to be impacted by AI systems.

Although the authors suggested that the findings provided a clearer picture of AI's impact than past projections, the exact effects will require "much more inquiry."

"It doesn't specifically predict whether AI will substitute for existing work, complement it, or create entirely new work for humans," Brookings analysts wrote.