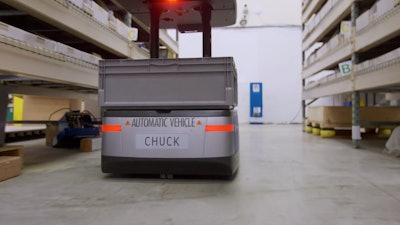 6 River Systems Inc.
Two Massachusetts automation companies formed a strategic partnership that they say resulted in a breakthrough system for e-commerce and retailers.

Soft Robotics and 6 River Systems last week detailed the development of a mobile, end-to-end picking system — the first of its kind on the commercial market — using the former's SuperPick fulfillment system and the latter's collaborative robot, known as "Chuck." The cobot can be easily implemented in existing logistics operations without the need for extensive programming for inventory tracking.

The system, the companies said, both reduces the costs normally associated with deploying automated picking technology and increases productivity by two to three times.

"The integration of mobile material transport systems and goods to robot order fulfillment systems will help to address an increasingly common market need," Soft Robotics CEO Carl Vause said in the announcement.

The technology will be demonstrated at the annual EDGE supply chain showcase in Anaheim, Calif., next week.