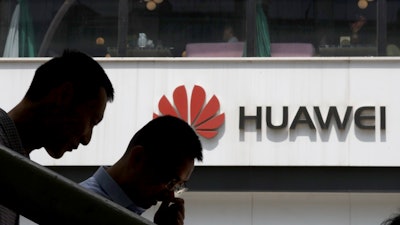 AP Photo/Ng Han Guan
Chinese technology giant Huawei reportedly plans to cut hundreds of jobs at its U.S. research and development subsidiary amid a ban on its use of U.S.-made components.

The Wall Street Journal, citing sources familiar with the matter, reported that Futurewei Technologies is expected to issue layoffs totaling "in the hundreds" at labs in California, Texas and Washington state. That level of cuts would significantly reduce its current U.S. workforce of 850 people.

Several layoffs have already been implemented, and one person told the paper that some Chinese workers at the labs could return to China and remain with the company.

The company was largely banned from using parts and software exported from the U.S. amid long-term concerns about Huawei's ties to the Chinese government — and related cybersecurity risks through its mobile devices and telecommunications equipment.

Huawei also faces allegations of fraud, sanctions violations and intellectual property theft from federal prosecutors.

The Trump administration last month indicated some sales to the company would be allowed to resume, but Huawei indicated this week that nothing has changed and renewed calls for the U.S. to remove it from the blacklist.

The company declined to comment about the layoffs to the Journal.