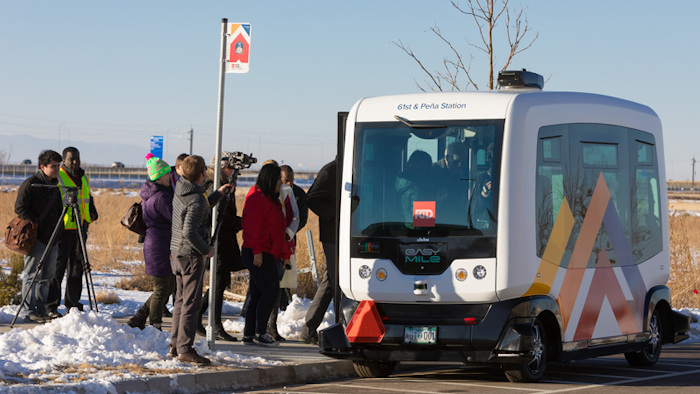 EasyMile
French autonomous vehicle startup EasyMile this week announced that its EZ10 driverless shuttle began circulating between its office on the outskirts of Denver and a nearby transit station.

The entirely electric shuttle makes four stops on a 15-minute loop between a handful of corporate offices, the 61st and Peña station and a park-and-ride lot. The vehicle can carry up to 12 passengers and generally travels at 12 to 15 miles per hour.

Commuters can utilize the shuttle free of charge on weekdays between 10 a.m. and 6 p.m.

EasyMile and regional transit officials partnered with mobility company Transdev to provide "ambassadors" on the shuttle, who will "ensure safety for the passengers and operations" and answer any questions about the driverless system.

The six-month program, designed to evaluate the use of autonomous technology to connect riders to their destinations from mass transit hubs, represents the first deployment of an autonomous vehicle in the state of Colorado, officials said.

"We're excited to see how driverless technology will work in Denver and to embrace new, innovative and better mobility options to move more people and improve travel for residents and visitors alike," Denver Mayor Michael Hancock said in a statement.

EasyMile officials said the system previously deployed in more than 20 countries worldwide.