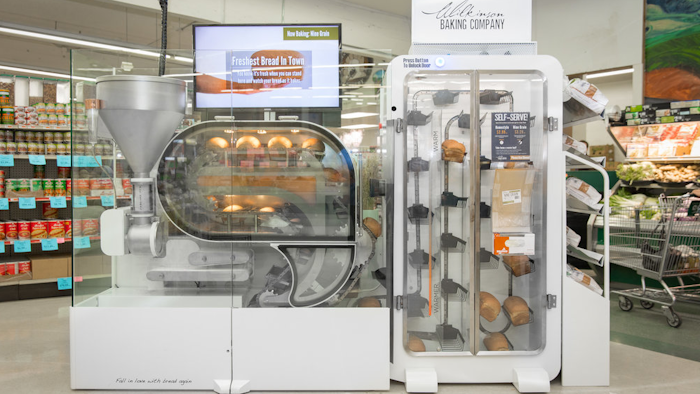 The Wilkinson Baking Company
A Washington State company is bringing baking technology to one of the world's leading tech showcases this week.
Wilkinson Baking Company on Sunday invited CES attendees to view and taste the work of its BreadBot, which the company said could make grocery store bakery operations more efficient and profitable.
The BreadBot, officials said, automatically performs each task needed to bake bread, from mixing and forming to proofing, baking and, finally, cooling. The robot needs about 90 minutes to complete its first loaf, but subsequent loaves can be produced in as little as six minutes.
The 22-square foot, largely transparent mechanism can run for a 24-hour period. Although an automated cleaning cycle takes about 30 minutes each day, the BreadBot can still churn out up to 235 loaves per day.
"In the age of home delivery, the BreadBot attracts consumers back to the store because it delivers fresh, delicious bread that is produced with theater and engagement," CEO Randall Wilkinson said in a statement.
Officials added that the machine could begin baking hours before stores open and timed to produce bread at specific intervals throughout the day. It can also be programmed weeks in advance and automatically asks for help from employees — from adding more mix to removing finished loaves — when needed.
The company, a part of New York startup accelerator Bonin Ventures, said retailers who implement the BreadBot to bake bread in-house could see profit margins grow up to "20-fold" by removing outside bread distribution.
Bread sales also increased by more than 30 percent, the company said, while providing lower energy consumption and improved employee productivity. The Walla Walla, Wash., company suggested that other large-scale food providers — such as schools or the military — could also benefit from the technology.