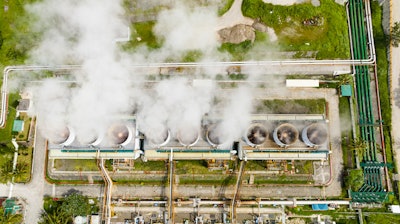 iStock
The U.S. Department of Energy announced the winners of its first-ever American-Made Geothermal Lithium Extraction Prize.
Three teams will split a total of $2 million for prototyped innovations to directly extract lithium from the hot water used to produce geothermal energy, known as geothermal brines.
The winners are:
Winning Team ($1 million): University of Illinois Urbana-Champaign ― Team SelectPureLi, A Redox Membrane for Lithium Hydroxide Extraction  
Runner-Up ($500,000): University of Virginia ― Team TELEPORT, Targeted Extraction of Lithium with Electroactive Particles for Recovery Technology (TELEPORT)
Runner-Up ($500,000): George Washington University ― Team Ellexco, Chemical-Free Extraction of Lithium from Brines
Lithium is a crucial element in the clean energy supply chain, but the U.S. currently imports about 99% of its lithium supply. Work under the prize helps support access to cost-effective, domestic sources of this critical mineral for batteries for stationary storage and electric vehicles. Advancing geothermal lithium extraction will also help ensure American leadership in the clean energy future and create U.S. jobs and a strong domestic supply chain.
Geothermal brines often have high concentrations of minerals like lithium, salt and zinc. While exact concentrations of these minerals depend on the location and surrounding geology, the use of direct lithium extraction (DLE) in geothermal brines offers a promising opportunity to source domestic lithium — while also generating clean electricity from geothermal resources.
DOE's Geothermal Technologies Office (GTO) launched the Geothermal Lithium Extraction Prize to help cost-effectively advance and scale DLE technologies and techniques.
Over the course of two years, Geothermal Lithium Extraction Prize competitors advanced through three competition phases — moving from concepts developed in phase 1, through a design stage in phase 2 and finally to fabricating and testing prototypes in the third and final phase.