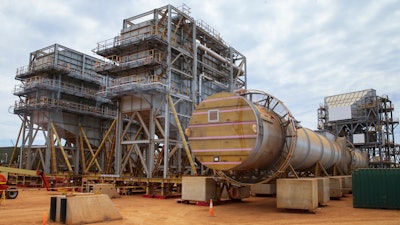 Ray Strange/AAP Images via AP
SYDNEY (AP) — A Chevron Corp. liquefied natural gas plant in Australia reported a production outage Thursday as workers escalated a strike action against facilities that provide more than 5% of global LNG supplies.
The U.S. energy giant said in a statement that it was working to resume full production at its Wheatstone facility "following a fault which has impacted about 25% of LNG production."
"The cause has been identified and restart activities have commenced," the statement said.
Chevron's Wheatstone and Gorgon plants in Western Australia state account for more than 5% of global LNG supply.
Chevron did not link the disruption to an escalation Thursday in the strikes at its Wheatstone and Gorgon LNG plants. Around 500 workers at the two Chevron sites have been taking limited strike actions since Sept. 8 in a dispute over wages and conditions.
The Offshore Alliance, a partnership between the Australian Workers' Union and the Maritime Union of Australia that represents workers in Australia's offshore oil and gas industry, said on social media that industrial action had "escalated today on the Chevron facilities and will continue to escalate over the coming days and weeks."
The alliance did not immediately respond when asked Thursday to explain how the industrial campaign had escalated or what was planned.
Chevron lawyers told an industrial court this week that the labor action posed a "significant risk" to production.