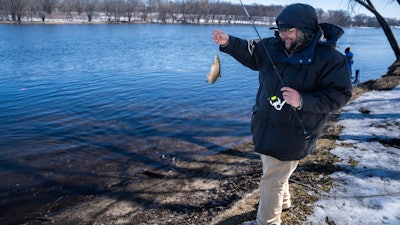 Renee Jones Schneider/Star Tribune via AP
MONTICELLO, Minn. (AP) — The shutdown of a Minnesota nuclear power plant caused a water temperature change that killed at least 230 fish in the Mississippi River, state officials said.
The fish didn't die because of any tritium leaking into the river and there is no danger to the public, the Minnesota Pollution Control Agency said Monday.
The kill occurred days after a leak of what was believed to be hundreds of gallons of water containing tritium was discovered from a temporary fix at Xcel Energy's Monticello Nuclear Generating Plant. The facility, about 38 miles (60 kilometers) northwest of Minneapolis powered down Friday so permanent repairs could begin.
A statement from the MPCA said that in normal operations, warm water from the plant enters the river and the fish get used to it.
"The fish kill is unfortunate but not unexpected given the significant temperature change that can occur when warm water from the plant stops flowing to the river during a shutdown in operations," the statement said.
Fish found dead included bass, channel catfish, common carp, and one or more species of sucker fish.
Xcel Energy has not responded to a message left by The Associated Press.
The first leak at the plant was discovered in November, when 400,000 gallons (1.5 million liters) of water with tritium leaked into the river. There was a monthslong delay in announcing the initial leak that raised questions about public safety and transparency, but industry experts said there was never a public health threat.
The new leak found last week came from a temporary repair to the original leak, the company said. Chris Clark, president of Xcel Energy–Minnesota, North Dakota and South Dakota, said the new leak also poses no risk to the public or the environment.
The MPCA and Minnesota Department of Health have sampled groundwater wells and found "no evidence that the tritium has reached the Mississippi River or contaminated drinking water sources," the MPCA said.
Tritium is a radioactive isotope of hydrogen that occurs naturally in the environment and is a common by-product of nuclear plant operations. It emits a weak form of beta radiation that does not travel far and cannot penetrate human skin, according to the Nuclear Regulatory Commission.