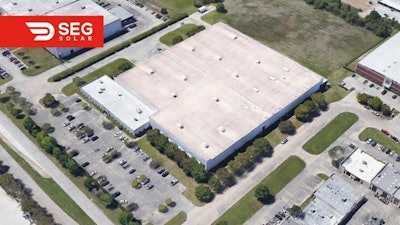 SEG Solar (SEG) yesterday announced the acquisition of a manufacturing facility in Houston, Texas, capable of producing more than 2GW of photovoltaic (PV) modules annually.
The plant consists of approximately 145,000 square feet of manufacturing and warehouse space and 16,000 square feet of office space. The facility will be equipped with three state-of-the-art production lines that will allow SEG to produce both TOPCON and high-efficiency N type PV modules with 182 mm or 210 mm solar cells.
SEG intends to source some components for the modules produced at the factory from local suppliers. Production at the facility is expected to begin in Q1 2024.
SEG's aggregate total investment in the facility is expected to reach over $60 million, including equipment and facility improvements. The company will begin to move its global headquarters and administrative support functions to the facility before the end of 2023.
The plant is expected to create as many as 500 new jobs in the local Houston area.
Founded in 2016, SEG wants to provide cost-effective and reliable solar energy solutions in the U.S. market. By the end of 2024, SEG is expected to ship more than 2GW of PV modules annually.