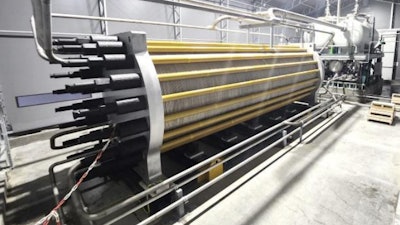 HydrogenPro
Norway-based HydrogenPro, an OEM that makes high pressure alkaline electrolyzers, will take its first major step into the U.S. market with a new 500 MW manufacturing capacity in Texas worth an estimated investment of up to $50 million. The brownfield investment includes a separate advanced electrode manufacturing facility, representing a technology game changer in the HydrogenPro solutions offering.
The move will increase HydrogenPro's manufacturing capacity to 800 MW in total and represents a major milestone in establishing a global presence as part of the strategy to become the top provider of large-scale green hydrogen technology and systems.
The new site is planned to have an initial capacity of 500 MW with the option to significantly scale up the capacity to several gigawatts.
According to the company, the U.S. has become the market leader on green hydrogen, as the Inflation Reduction Act (IRA) passed by Congress in August 2022 is beginning to show effects. The favorable tax scheme for producers of green hydrogen has resulted in surging demand, growing four to six times compared to pre-IRA figures.
The U.S. market is a top priority for HydrogenPro. With he new plant, the company hopes to take a market-leading position and become the only viable large-scale player providing high-pressure alkaline electrolyzer technology and systems.
HydrogenPro has reviewed various states to determine the most suitable location. All locations have been assessed based on several factors, including access to site and skilled workers, infrastructure, ease of sourcing raw materials, proximity to end-users and incentive programs offered by different states.