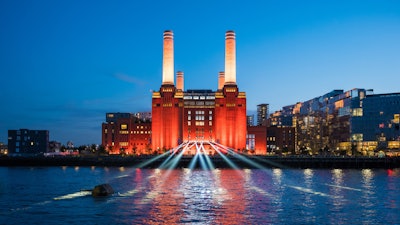 PRNewswire
Nearly 40 years after the lights were switched off, Battersea Power Station opens today, Friday October 14, marking the first time the public can explore the landmark and enjoy the first of its shops, bars, restaurants and leisure venues.
Electric Boulevard, a new pedestrianized high street running between Gehry Partners' Prospect Place and Foster + Partners' Battersea Roof Gardens to the riverside neighborhood's Zone 1 London Underground Station, also opens today.
Dato' Jagan Sabapathy, chairman of Battersea Project Holding Company, said the opening of Battersea Power Station comes after 10 years of work.
Work began on Battersea Power Station in 1929 and the first power was generated in 1933, initially from just one Turbine Hall with two chimneys. Battersea Power Station expanded with Turbine Hall B powering up in 1944 and the fourth chimney completing in 1955. At its peak, Battersea Power Station supplied a fifth of London's electricity, including to Buckingham Palace and the Houses of Parliament. The building was decommissioned in 1983 and later several failed attempts were made to redevelop the site.