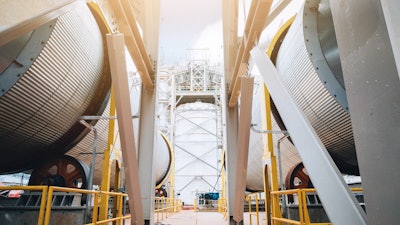 Enviva
Enviva, a producer of sustainably sourced woody biomass, held a ceremonial ribbon cutting at its recently constructed wood pellet manufacturing facility in George County, Mississippi. The event commemorates the emergence of more U.S.-based green jobs, and the completion of a new state of the art manufacturing facility, along with Enviva's continued success, growth, and positive economic impact in Mississippi.
The Enviva Lucedale plant, located in George County, is Enviva's second operating plant in the state, and the first plant in its newly formed Pascagoula cluster. The Lucedale plant began its ramp in production at the beginning of 2022 with a goal of reaching an annual permitted production capacity of 750,000 metric tons per year (MTPY). Looking back, construction on Enviva's Lucedale plant supported approximately 400 cumulative jobs and represented an investment of more than $215 million in George County by Enviva.
Now fully operational, Enviva has hired approximately 90 full-time employees for the Lucedale plant and supports nearly 300 jobs across the George County community. With more than half of the associates at the Lucedale plant residing in George County, Enviva's practice of hiring locally ensures that George County directly benefits from the jobs created at the Lucedale plant. Over time, Enviva expects to generate an annual economic impact of $250 million in the region.
Located in a robust fiber supply basket, the Lucedale plant sources low-value wood from areas within 75 miles of the facility, creating durable markets for local landowners and incentives to keep land as forests. As the world's largest producer of wood pellets, the company embraces its stewardship role in the forest products industry by encouraging the use of sound and scientifically proven forestry practices to improve forest health and productivity in the region.
Today's announcement follows the news of Enviva's recently opened terminal at the Port of Pascagoula and its forthcoming wood pellet manufacturing plant in Bond, MS.