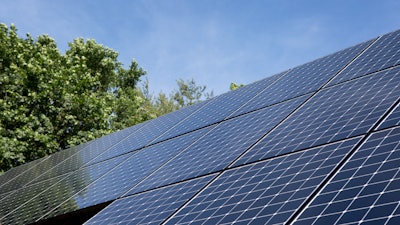 IKEA
IKEA U.S. has teamed up with SunPower, a solar technology and energy services provider, to make home solar energy solutions easier to access in select California locations beginning today.
Members of the IKEA Family customer loyalty program will be able to purchase home solar solutions, available through SunPower, to generate and store their own renewable energy and live more sustainably.
Customers can learn more about the home solar offering in IKEA California stores and online, and then work directly with SunPower to access solar energy packages developed specifically for IKEA Family loyalty members. The four packages include various combinations of solar, energy storage and electric vehicle (EV) charging. Each of the offerings include a SunPower Equinox Solar System; access to the mySunPower app to monitor energy production or manage storage use; and SunPower's Complete Confidence Warranty consisting of a 25-year limited warranty for panels, including coverage for power, product and labor, and a 10-year limited warranty for the monitoring device and storage system.
With SunPower, making the switch to renewable energy at home can be completed in five simple steps:
Assessment: A SunPower Solar Advisor will assess the customer's electricity bills, energy goals, and roof configuration so they can design a custom solar package to meet their needs.
Quote: SunPower will provide a proposed system design based on the customer's needs as well as financial products and incentives that may be available to them.
Site Verification: A SunPower installation professional will visit the home to assess the roof and ensure the system is designed to optimize solar production. Updates will be made to the final proposal to reflect any changes needed.
Installation: Once the proposal is signed, SunPower will work with the customer from installation to activation.
Enjoy the Sun: Sit back and enjoy the benefits of having solar.
In addition to the select California locations in the U.S., IKEA makes home solar and energy services accessible in Australia and 10 markets in Europe including Belgium, France, Germany, Italy, Netherlands, Spain, Sweden, Switzerland, Poland and Portugal. The company has a renewable energy portfolio, including rooftop solar arrays on 90 percent of IKEA U.S. locations. Ingka Group, a strategic partner in the IKEA franchise system, has invested in two solar parks with 403-megawatt capacity in Utah and Texas and two wind farms producing 859 million kWh of energy in Illinois and Texas.