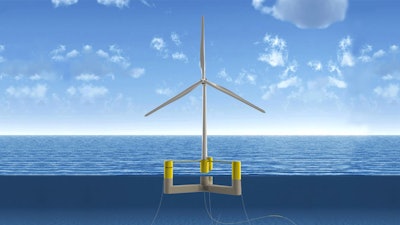 University of Maine
PORTLAND, Maine (AP) — Two renewable energy companies are investing $100 million to build an offshore, floating wind turbine with the University of Maine, which has been researching and developing technology for such a project for 12 years.
New England Aqua Ventus, a joint venture of Diamond Offshore Wind and RWE Renewables, will form a public-private partnership with the University of Maine to build a floating, offshore wind turbine 14 miles (22 kilometers) from the coast, the university announced Wednesday.
The project will build a single floating wind turbine that will supply at least 10 megawatts of renewable energy to the Maine electric grid. New England Aqua Ventus says it expects the project to be completed by 2023.
The University of Maine built a one-eighth scale prototype of the wind turbine in 2013 with Cianbro, a construction firm, and with funding from the U.S. Department of Energy. The base of the floating turbine is made of concrete and it will be anchored in 300 feet (91 meters) of water by three lines.
The turbine will be located 14 miles off the Maine coast in an area 2 miles (3 kilometers) south of Monhegan Island.
The Maine Public Utilities Commission signed a 20-year contract with the University of Maine-New Englad Aqua Ventus partnership to purchase power from the offshore turbine in November, the Portland Press Herald reported.
Gov. Janet Mills and the four members of Maine's congressional delegation all expressed support for the partnership and called it a significant step in the state's transition to clean energy sources.