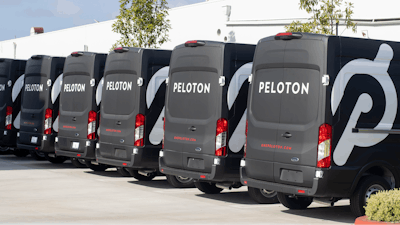 iStock
NEW YORK (AP) — A woman has filed a lawsuit against Peloton over the death of her son, who was killed when his exercise bike fell on his neck during a workout in his New York City apartment.
Ryan Furtado, 32, was doing a workout in his Brooklyn apartment that involved getting off his Peloton bike to do floor exercises and then getting back on it when the accident occurred on Jan. 13, 2022, according to the lawsuit filed March 10 in New York state court.
Furtado grabbed the bike to hoist himself up, but it "spun around and impacted him on the face and neck," according to the lawsuit filed by his mother, Johanna Furtado. The impact severed Furtado's carotid artery, killing him instantly, according to the lawsuit, which alleges that the equipment was sold "in a defective and unreasonably dangerous condition."
Johanna Furtado, who is seeking unspecified damages, accuses Peloton of negligence for failing to warn owners that it could tip over if used as a brace.
Lawyers for Peloton responded in court papers that the company was not responsible for Furtado's death because his injuries were caused by his own negligence and by "misuse or abuse of the product."
A Peloton spokesperson said in a statement, "We offer our deepest sympathy and condolences to the Furtado family for this unfortunate accident. As a Member-first company, the health and safety of our Member community is a top priority."
Furtado, who grew up in Hawaii, worked in sales at the marketing company Demandbase, according to his LinkedIn page.
His death is apparently the first to be blamed on a Peloton exercise bike.
The company recalled about 125,000 of its treadmills in 2021 after they were linked to the death of a child and injuries to 29 other people.
The company also recalled more than 2 million of its stationary bikes earlier this year because its seat post assembly could break during use, posing fall and injury hazards.