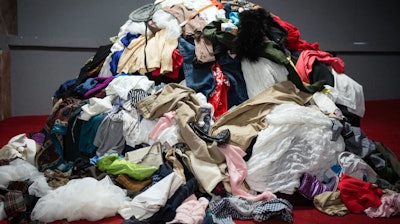 Wealth of Geeks
The lack of suitable textile recycling systems is a more than 17-million-ton problem in the United States.
While most American cities have a curbside pickup program that allows residents to recycle plastic and paper, they rarely offer similar systems for textile recycling.
The Environmental Protection Agency (EPA) estimated in 2018 that textile waste accounted for 17 million tons of municipal solid waste (MSW), with a 13% recycling rate.
In an effort to combat the amount of textiles going to landfills, some small U.S. companies are responding by offering more textile recycling. Smaller companies, in particular, offer this service, according to the tech news site Technotubbies.
The Trouble With Textiles
Unlike paper or other materials, textiles are not recycled as easily. They must be sorted by color and fabric composition to be successfully recycled, whether as thrift store items or downcycled into new threads and fabric. Items with buttons, zippers, and embroidery also pose problems for recycling, since the recycler must know the chemical makeup of all textiles to sort and recycle them properly.
The U.S.-based company Refiberd has created a solution to the sorting problem via a machine learning program that sorts shredded textile waste according to fiber content, where it is then sent to the company's in-house chemical recycling system. The waste is then recycled into thread that can be used for new fabric.
Thrift Stores and Take-Back Programs
Americans have options for repurposing clothing. Many neighborhoods host single- or multi-family yard sales where clothing is offered. Some charities have a clothing closet where those in need can find apparel for themselves or their families.
Some organizations, like the Salvation Army and Goodwill, sell donated clothing at reduced prices, as does America's Thrift Stores and other charitable concerns. These organizations take donations at their stores or collect them from donation bins. The items are then cleaned, sorted, and offered for sale.
While these organizations prefer new or gently used clothing items, some companies will take all donations and send them on to recycling or sale at thrift stores.
Kristy Caylor, founder of the take-back company For Days, told Sophie Shaw with CNN Underscored, "We put 50 billion garments into landfill every year in the U.S." Her company offers "Take Back Bags" which customers can order, fill with unwanted clean clothing, shoes, and handbags, and send back to the company. The bags are $20, and customers will receive a $20 credit for use at the company. For Days also sells clothing made from recycled materials, as well as sustainable bath and body products and home goods.
For Days will send clothing on to recyclers for downcycling into pulp and new fabric and will donate better items to thrift stores. If the textiles are otherwise unusable, they will be "shredded and transformed into something of lesser value like industrial rags, carpet padding, and building insulation," Caylor said. According to the company website, nothing it receives in the Take Back Bags will be sent to a landfill.
Retold Recycling also takes clothing and household textiles. The company sorts items and sends them to thrift stores, charity stores, recycling companies, or companies that accept scraps for repurposing.
Amelia Trumble, CEO of Retold, told Haley Bosselman of Angeleno Magazine, a Los Angeles lifestyle website, "Unfortunately, 85% of all textiles are thrown away in the U.S. and roughly 13 million tons are either dumped into landfill or burned. The average American has been estimated to throw away over 80 pounds of clothes every year. So landfills are just growing."
According to the company's website, it has diverted 95 tons of textile waste from landfills since its launch in 2020.
Customers purchase bags from Retold, fill them, and return them to the company. Bags are pre-labeled and include prepaid postage. The company's bags are manufactured from corn starch and are recyclable and compostable. Retold has a rewards program so customers can recoup the cost of the bags. Rewards include discounts from sustainable brands.
Other companies offer textile recycling without rewards attached. Customers interested in recycling items besides clothing can check out TerraCycle. This company offers to recycle everything from household plastics, cigarette waste, and restaurant sauce packets to textiles. Box prices start at about $100, but return postage is prepaid.
Houston, Texas-based American Recyclers accepts textile donations at their bins, which are located in Arizona, Louisiana, Oklahoma, and Texas. The company also recycles some household textiles, including sheets and towels, curtains, and rags.
Brands That Recycle
Some clothing manufacturers offer recycling programs for their brands. Outdoor clothing brand Patagonia takes back its products for recycling at its service center or retail locations. Customers should wash or clean products before returning them to the company. The company also accepts items that are still wearable or usable and will offer them for sale while the customer receives a store credit for their donation.
Customers can contact individual companies about their recycling and take-back programs.
The advantage of sending recyclables via the mail is that those who live in areas where recycling isn't readily available can still participate in programs that pledge to keep more waste from landfills.