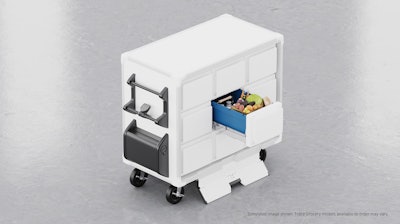 BrightDrop
BrightDrop is expanding its business and product portfolio with the launch of a new temperature-controlled eCart that helps streamline order fulfillment and pickup for online grocery purchases. Kroger is slated to be the first customer to introduce the BrightDrop Trace Grocery into its e-commerce operations, beginning this year.
Trace Grocery helps streamline that online order fulfillment process for grocers by allowing employees to put orders directly into the unit before stationing it curbside for customer retrieval. With access given after digital verification, Trace Grocery is compatible with most grocers' existing online fulfillment apps, enabling flexibility for customers when retrieving their purchases. The unit's ability to move inside and outside of a store, while providing access to customers without an employee present, allows grocers to explore new ways to get products closer to shoppers' doorsteps.
Built on the BrightDrop Trace Platform originally designed for last-mile fulfillment, the Trace Grocery features and benefits include:
Temperature management to store items at food-safe temperatures for up to four hours
Propulsion-assistance to move up to 350 pounds of groceries, helping reduce physical strain on the labor force
Auto-braking to stop the electric motor that matches an operator's walking speed up to 3 mph
Nine compartments to segment items by order, temperature and product type for optimized pickups
Flexibility to maneuver inside and outside of a grocer's store to help reduce costly staging and infrastructure requirements
Weatherproofing to handle variable temperatures and outdoor elements with ease
BrightDrop and Kroger completed an initial pilot program in Lexington and Versailles, Kentucky. During this pilot, Kroger said it experienced a noticeable improvement in the customer and associate experience. Kroger is now slated to be the first customer of the Trace Grocery with the first stores receiving units later this year.