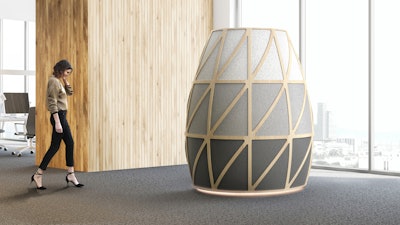 OpenSeed
OpenSeed has partnered with Dr. Deepak Chopra and Yves Behar, CEO and founder design studio fuseproject, to build Iris, a new workplace meditation pod designed to alleviate stress. The pod is made with sustainable materials; integrates sound, guided meditations, aromatherapy and specially designed lighting; and can be yours for $16,000.
The Iris design is assembled on-site and made with sustainably sourced materials and recycled textiles. Inside the pod, a touch screen provides meditation options including guided meditation from Chopra and others. LED light sequences are programmed to synchronize with audio and a small compartment holds essential oils for aromatherapy. The pod includes multi-channel concealed speakers and OpenSeed said the 100% wool felt panels provide sound insulation while providing a natural, soft fabric that allows air to flow while blocking out external noises.
"OpenSeed's meditation pods can play an important role in facilitating meditation in the workplace, residences and commercial spaces," said Chopra. "The pod is a unique environment that beautifully integrates industrial design, technology, and content that helps ease stress and expand self-awareness. Given the mental health crisis we are facing, OpenSeed may offer the type of solution that could help many people reap the vast benefits of meditation."
OpenSeed has done some research to back up its claims. A study conducted in Japan and supervised by Dr. Michihito Sugawara, neurosurgeon and director of Sugawara Neurosurgery Clinic, tested 30 subjects over a period of three weeks and found that isolated and controlled environments have great potential to quickly and effectively quiet the mind, reduce stress and enhance peak performance, according to a news release.
The Iris is expected to begin shipping in 2023 but it's available for pre-order now with a 10% discount for early adopters. The pod will also require a monthly subscription for content access.