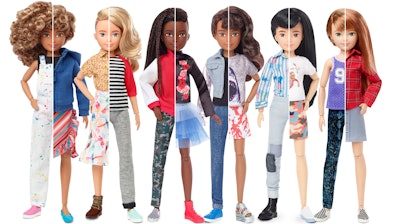 Business Wire
Toy maker Mattel on Wednesday unveiled a line of fully customizable, "gender-inclusive" dolls that the company said would encourage children to create any character of their choice.

Creatable World, the company said, offers six different doll kits in varied skin tones, each of which comes with a long and short hairstyle option and clothes that include both a skirt and pants.
Mattel officials said they worked with kids, parents, physicians and experts to develop the dolls. Kim Culmone, the company's senior vice president of fashion doll design, said the company felt it was time to create a doll line "free of labels."
"Through research, we heard that kids don't want their toys dictated by gender norms," Culmone said in a statement. "This line allows all kids to express themselves freely, which is why it resonates so strongly with them."
The doll packs are expected to sell at retail for $30.