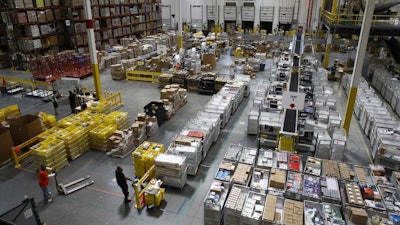 AP Photo/Patrick Semansky
Businesses that sell their products on Amazon.com will soon be able to donate their unsold or returned goods to charity organizations under a new program announced by the e-commerce giant Thursday.

Amazon officials wrote in a blog post that the Fulfillment by Amazon Donations program would help third-party sellers in the U.S. and U.K. donate excess inventory by managing the logistics of donations and partnering with charity groups, including Good360, Newlife and the Salvation Army.

Amazon said the program expands its existing donation efforts, but reports noted that the announcement followed media investigations that showed millions of products from the company's European facilities are sent to landfills or otherwise destroyed. The number is likely much higher in the U.S., NBC News added.

The FBA Donations program will reportedly be the default option for sellers that store items in Amazon's U.S. and U.K. warehouses as of Sept. 1, but companies can choose to opt out of the program.

"We know getting products into the hands of those who need them transforms lives and strengthens local communities," Alice Shobe, director of Amazon in the Community, said in the blog post.