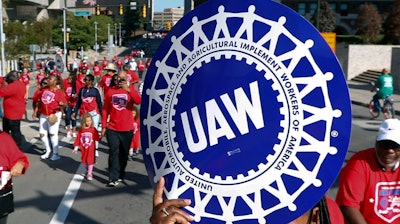 AP Photo/Paul Sancya, File
DETROIT (AP) — The tentative contract agreement between General Motors and the United Auto Workers union appears to be headed for defeat.
The union hasn't posted final vote totals yet, but workers at five large factories who finished voting in the past few days have turned down the four year and eight month deal by fairly large margins.
The vote tracker on the UAW's website shows the deal winning by 686 votes. But those totals do not include votes from GM assembly plants in Fort Wayne, Indiana; Wentzville, Missouri; Lansing Delta Township and Lansing Grand River in Michigan, and a powertrain plant in Toledo, Ohio, which all voted against the deal, according to local union officials.
In most cases the vote tallies ranged from 55% to around 60% against the contract.
Workers were awaiting totals from a large assembly plant in Arlington, Texas, but many said they expect the contract to be voted down.
A message was left seeking comment from the union's spokesman.
It wasn't clear what would happen next, but local union officials don't expect an immediate walkout after the final totals are known.
Voting continues at Ford, where the deal is passing with 66.1% voting in favor so far with only a few large factories still counting.
The contract was passing overwhelmingly in early voting at Jeep maker Stellantis. The union's vote tracker shows that 79.7% voted in favor with many large factories yet to finish.
Thousands of UAW members joined picket lines in targeted strikes against Detroit automakers over a six-week stretch before the tentative deal was reached late last month.