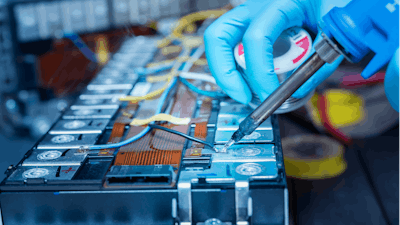 iStock
Governor JB Pritzker and battery manufacturing company Gotion announced the company's decision to locate its new state-of-the-art $2 billion electric vehicle lithium battery manufacturing plant in Manteno. The plant is expected to create 2,600 jobs and begin production in 2024.
"Energy and environmental protection are our common challenges. To address them, solar power, wind, and energy storage systems are becoming the backbone of a new energy system and accelerate the revolution in the global energy landscape," said Li Zhen, Chairman of Gotion High-tech. "When we come to Illinois, we are not building a new factory but are planning to reuse an existing one and bring it back to life again."
Gotion's new EV battery plant will help bolster the supply chain and meet growing demand for batteries across the EV sector, including Gotion's partners, as well as additional EV manufacturers across North America. The facility will focus on lithium-ion battery cell, battery pack production, and energy storage system integration.
Once completed, the facility in Manteno is expected to produce 10 GWh of lithium-ion battery packs and 40 GWh of lithium-ion battery cells. The site will cover approximately 150 acres.
With competitive incentives through REV Illinois, infrastructure, access to markets, as well as an abundant and qualified workforce, Gotion selected Illinois to locate its gigafactory after a competitive nationwide search. Illinois' assets combined with a comprehensive REV Illinois incentive package and the state's new Invest in Illinois Fund helped secure Gotion's historic investment in Illinois.
Gotion's total incentive package from the State of Illinois, which includes REV, Invest in Illinois, and other incentives, is valued at $536 million. Through REV, Gotion is eligible to receive tax benefits totaling $213 million over 30 years. The REV agreement specifies a minimum company investment of $1.9 billion and the creation of 2,600 full-time jobs that are paid at least 120% of the average wage of similar job classifications in Kankakee County.
Gotion will also be the first recipient of Invest in Illinois funding in the amount of $125 million in capital funding to the company. The Fund was signed into law in early 2023 to make Illinois more attractive when vying for large projects in highly competitive sectors like clean energy.
Gotion was also approved by local authorities for property tax abatement for 30 years.
As part of Illinois' commitment to build out comprehensive EV hubs and support Illinois' workforce, the state will also fund a new manufacturing training academy nearby, as well as award an additional grant to workforce providers to expand training and prepare regional employees for the new jobs.