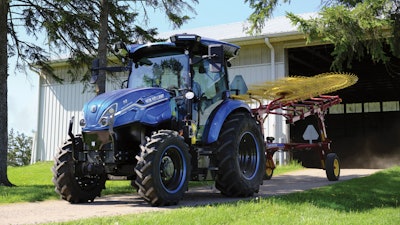 New Holland
For 2024, New Holland Agriculture is introducing an all-electric utility tractor with autonomous features: the T4 Electric Power. This tractor opens a new class in the market, the Utility Electric, focused on offering solutions for more efficient field operations.
The T4 Electric Power is a solution for lower horsepower field operations and it is suitable for multiple applications, such as mixed farm, hay and forage, dairy, livestock, municipality, greenhouse and specialty crops (vegetable and orchard). The tractor is the latest development in New Holland's strategic plan for electrification and the newest addition to the brand's lineup of alternative energy sources powered equipments, like the T7 Methane Power LNG (Liquified Natural Gas) and the T6.180 Methane Power. Equipped with a lithium-ion battery pack, the T4 Electric Power delivers gradual power and continuous torque achieved at the lowest speeds, ensuring a completely new driving experience and operation during loader work cycle and daily farm routines.
Under the hood of the T4 Electric Power lies a state-of-the-art battery system partnered with a fully electrified drivetrain that's proven to deliver power and productivity. Featuring a 110-kWh maximum energy storage capacity in a 400V nominal high-voltage circuit, it provides 74 hp (55 kW) rated power and 65 hp (48 kW) PTO power. Using an efficient high voltage powertrain with integrated cooling features in the single devices from established mass production vendors, as well as material currently in production, makes this tractor a pioneering and revolutionary solution.
Compared to its diesel-powered counterparts, the T4 Electric Power delivers superior performance. It offers 4-wheel drive, a proven 12x12 transmission, clutch-less electronic power shuttle reverser and all the regular power outputs of a traditional diesel utility. This includes rear electro-hydraulic PTO, drawbar, multiple rear remotes, mid-mount valves and a robust, and complete, 725LU mechanical self-leveling front loader with 3rd function and 84'' bucket included. Due to the greater control, enhanced precision and faster responsiveness, the tractor boosts the field capacity by reducing the applications cycle time.
The tractor's electrified drivetrain promotes silent power with high torque and fast response achieved at the lowest speeds. These two intrinsic electric motor's characteristics, combined with the 12x12 electronic power shuttle transmission, means that even an inexperienced operator can run the implements during the applications without the need for precise gear selection and throttle control. Meanwhile, experienced operators will have infinite speed adjustments just by controlling motor RPM. Smooth and gradual delivery of power at low speeds and constant delivery in high speeds increase control and precision during field operations.