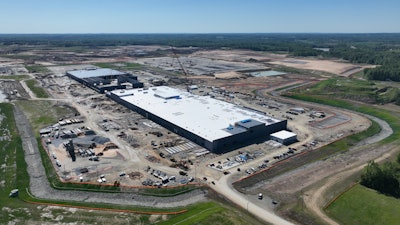 Toyota
Toyota announced it would assemble an all-new, three-row, battery electric SUV at Toyota Kentucky starting in 2025.
For Similar Content: Subscribe to Daily Newsletters
The company's first U.S.-assembled BEV will be powered by batteries from Toyota North Carolina. The new battery plant, which is currently under construction, will receive an additional $2.1 billion investment to support the company's drive toward carbon neutrality.
Kentucky to Launch Toyota's First U.S. BEV
The announcement confirms that Toyota Kentucky will lead the company's vehicle carbon reduction efforts with its first U.S.–assembled BEV, a 3-row SUV.
The decision to assemble a BEV in the U.S. demonstrates the company's belief in electric vehicles and its commitment to design, engineer and produce vehicles for the market.
"This is incredible news that furthers Kentucky as the center of the electric vehicle sector," said Kentucky Governor Andy Beshear. "Toyota has long been a vital part of the automotive industry in the commonwealth, and now the company is positioned to help lead us into the future. I want to thank the company's leaders for their commitment to our state's incredible workforce, and I can't wait to see what's next for Toyota and Kentucky."
North Carolina Brings the Power
Toyota is investing $2.1 billion in its North Carolina battery manufacturing plant for new infrastructure to support future expansion. This brings total investment in Toyota North Carolina to $5.9 billion.
"Toyota's significant investment in our state, now nearly $6 billion, is terrific news and more evidence that North Carolina is a leader in the clean energy economy," said North Carolina Governor Roy Cooper. "Toyota believes in our world-class workforce to power its future success and I appreciate this enormous commitment here."
The facility will be Toyota's hub for developing and producing lithium-ion batteries needed for its expanding portfolio of electrified vehicles. Production at the Liberty plant is slated to begin in 2025 with six battery production lines, four for hybrid electric vehicles and two for BEVs.