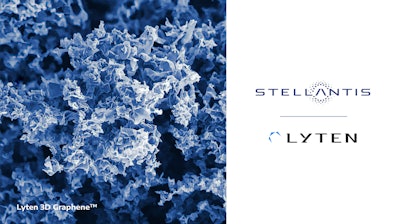 Stellantis/Lyten
Stellantis Ventures, the corporate venture fund of Stellantis, invested in Lyten to accelerate the commercialization of Lyten 3D Graphene applications for the mobility industry, including the LytCell lithium-sulfur EV battery, lightweighting composites and novel on-board sensing. Lyten, a pioneer of 3D Graphene, will leverage the unique tunability of the material to enable enhanced vehicle performance and customer experience while decarbonizing the transportation sector.
Lyten's tunable materials platform has demonstrated significant reductions in greenhouse gas emissions and will advance the transition to sustainable mobility.
Unlike traditional lithium-ion batteries, Lyten's lithium-sulfur batteries do not use nickel, cobalt or manganese, resulting in an estimated 60% lower carbon footprint than today's best-in-class batteries and a pathway to achieve the lowest emissions EV battery on the global market. Raw materials for lithium-sulfur batteries have the potential to be sourced and produced locally in North America or Europe, enhancing regional supply sovereignty. This technology will meet the needs of industries seeking lightweight and energy-dense batteries that are free from supply chain disruptions.
Stellantis launched Stellantis Ventures in 2022 as a venture capital fund committed to investing in early and later-stage startup companies developing innovative and sustainable technologies within the automotive and mobility sectors. Stellantis Ventures, powered by an initial €300 million in funding, is a key component of the company's Dare Forward 2030 strategic plan, which sets out core targets for Stellantis, including deep emission cuts to slash CO2 in half by 2030, benchmarking the 2021 metrics, and achieving carbon net zero by 2038 with single-digit percentage compensation of the remaining emissions.
With traditional lithium-ion battery materials in critically short supply for EV manufacturing, Lyten's lithium-sulfur battery will offer an alternative, non-nickel-manganese-cobalt cathode solution that supports the global transition to electric vehicles at mass market scale. Lyten's goal is to provide a secure supply of performance-based and environmentally sustainable products to its customers, while also enabling auto manufacturers to take advantage of growing U.S. and European policy incentives, such as those referenced in the Inflation Reduction Act.
Lyten's lithium-sulfur battery, composites and sensor technologies are initially being produced on its 145,000-square-foot campus in Silicon Valley. Apart from producing EV batteries, Lyten is working with previous customers to start delivering lithium-sulfur batteries and 3D Graphene-infused composites for specialty markets in 2023. Lyten is collaborating with its strategic investors from across multiple industries to apply Lyten 3D Graphene materials to decarbonize additional, carbon intensive sectors beyond transportation, with more announcements planned for later this year.