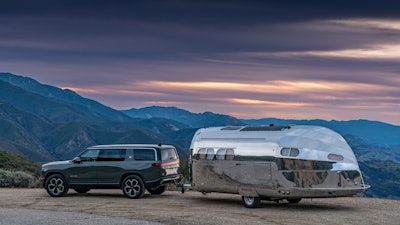 Bowlus
Bowlus today announced its move to be the first fully electric RV company. The move to all-electric follows the success of the Bowlus Volterra, an all-electric RV, which Bowlus launched in August of last year.
All models, including the Volterra, Terra Firma and Heritage, will be fully electric. Founder Geneva Long envisioned the move to an all-electric RV electric ten years ago when she reimagined the original riveted aluminum travel trailer for fully immersive luxury land travel that makes RVing less taxing and more restorative.
The Bowlus is the perfect electric recreational vehicle due to its incredible aerodynamic and trademarked monocoque shape. Long and her team have engineered the Bowlus brand for lightness with a GVWR ranging from 2,500 lb. to 4,000 lb. depending on the model lineup – about half the weight of existing and concept/ideation trailer trailers -- which means the Bowlus is easily towed by the widest range of electric vehicles for ultimate range in the zero-emission luxury camping experience.
The Bowlus Power Management System, with a capacity of up to 17 kWh (depending on model), when combined with Bowlus Aersolar Solar, allows travelers to be self-sufficient without needing fossil fuels or campgrounds. This step removes the last inconveniences for luxury travelers. Bowlus has pioneered a long list of firsts, including the first lithium-powered RV that could power air conditioning off-grid in 2016, while much of the industry still presents these features in concept RVs.
Last month Bowlus announced their most accessible product, the Heritage edition, with a starting price of $159,000.