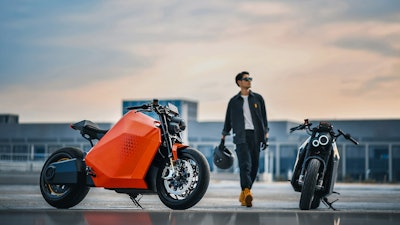 Davinci Motor
Davinci Motor, a Chinese manufacturer of high-performance robotic electric motorcycles, will showcase its DC100 electric motorcycle at the 2023 Consumer Electronics Show (CES), marking the first time that the company's products have landed in the U.S. market.
Headlining Davinci Motors's CES 2023 booth will be the brand-new DC100 product, which the company bills as the first electric motorcycle designed to rival traditional 1,000 cc motorcycles in terms of performance.
This electric motorcycle is capable of achieving 0-60 mph (0-100 km/h) in three seconds before topping out at 124 mph (200 km/h). At the same time, it boasts a range in excess of 249 miles (400 km), while a full charge takes a half an hour using level 3 DC fast-charging stations.