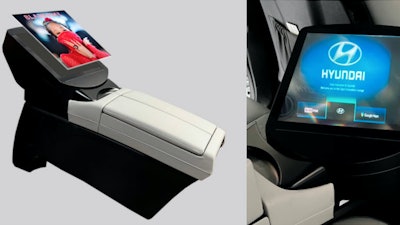 Holo Industries
Holo Industries showcased their interactive holographic entertainment system in the 2022 Hyundai Palisades SUV at the Hyundai Open Innovation Lounge in Seoul, Korea, from November 7-11.
Working closely with Hyundai CRADLE, the open innovation hub for Hyundai Motor Group in Mountain View, California, and the Future Technology Strategy team in Korea, Holo Industries designed and developed an interactive holographic entertainment system for the new Palisades luxury SUV. The console was provided by Youngsan, the Korean Tier 1 supplier of automotive interiors for Hyundai/Genesis/Kia motors. Holo modified their 250mm Holographic insert to retrofit the system into the Palisades rear passenger console. The system is mounted on a 360-degree mechanical swivel system to allow for maximum viewing between the left and right-rear passengers.
System programming is a combination of content including the popular Korean pop group Black Pink and their hit "Pink Venom," Google Maps, and more. The music videos are designed with mid-air controls for volume, play-back, pause, etc. The Google Maps feature allows the user to scroll, pinch & enlarge, and access content such as restaurants and locations through Holo Industries' interactive Holographic Touch™ technology.
"The entire process, from signing through development and the integration of the Holographic console into the Hyundai Palisades was seamless. Both Hyundai teams created an environment that made even the most daunting challenges easy to overcome. The final result is a wildly successful development process and the automotive industry's first holographic vehicle entertainment system. We are looking forward to advancing a number of innovative new programs in concert with Hyundai Motor Group and their Tier 1 suppliers in the coming months," said Glenn ImObersteg, CEO of Holo Industries.
The week's event brought hundreds of Hyundai/Genesis/Kia executives and their Tier 1 suppliers to the Open Innovation Lounge at Hyundai headquarters in Seoul, Korea, and garnered a huge amount of interest for Holo Industries' holographic entertainment system as well as the dozen other innovative new PoC technologies on display.