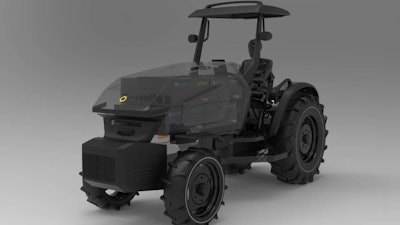 Ideanomics
Ideanomics today announced that Energica, through its Energica Inside business unit, and Solectrac are starting technical collaboration on a new generation of electric tractors. Energica Inside will support Solectrac with battery pack development, Vehicle Control Unit (VCU) development, and prototype assembly and testing.
Collaboration between Solectrac and Energica Inside on battery pack development is expected to boost run-time, meaning customers can do more with their electric tractors per charge. Thanks to its battery pack technology, Energica said its motorcycles offer more range than any other electric motorcycle on the market. Energica's VCU is expected to further enhance the overall performance and efficiency of Solectrac's next-generation electric tractors.
New Solectrac tractors will also incorporate modular and future-forward styling from Ideanomics Design as well as telematics and performance data from Ideanomics Digital. Ideanomics expects to introduce a new range of Solectrac tractors in 2023.
"Energica Inside has the potential to become a significant source of revenue," says Livia Cevolini, CEO of Energica. "Governments around the world have made up their mind – the future is electric. For some companies and industries, this transition will not be easy. Through Energica Inside, we will provide our unparalleled EV expertise to help OEMs electrify their product offerings faster, easier and more affordably."
Energica Inside is focused on harnessing Energica's EV expertise to help other industries electrify– from agriculture to maritime to aviation and beyond. While this collaboration with Solectrac is Energica Inside's first project, there is already a rich funnel of companies interested in partnering with Energica Inside. This includes early-stage discussions with a two-wheel vehicle and a watercraft OEM.
Ideanomics is solving the complexity of fleet electrification, offering fleet operators everything they need to electrify faster, easier, and more affordably all in one place. Ideanomics is committed to supporting the growth of its Energica and Solectrac subsidiaries, both of which are consistently delivering increased sales and higher-margin revenue generation.