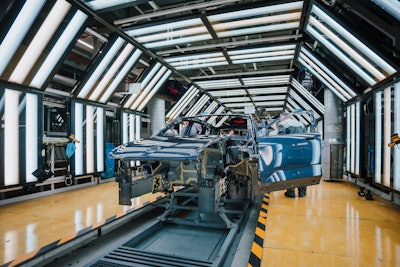 Fisker
EV Maker Fisker has confirmed that production of its Ocean SUV will begin later this month.
The company reiterated its 42,400 Ocean unit production plan based on a four-stage supplier ramp up and vehicle assembly plan from November 17, 2022 to end of 2023. The 2023 quarterly production plan has the company producing more than 300 units in the first quarter, more than 8,000 in the second quarter, more than 15,000 in the third quarter, and the remainder in the fourth quarter.
Fisker also plans to deliver a small commercial fleet of 15 Oceans to Magna in December 2022.
"Fisker is delivering on our SOP commitment despite a challenging environment due to our focused collaboration with all of our partners and suppliers. We are making deliberate choices on how to best deploy capital and structure our assembly volumes for a successful ramp," said Henrik Fisker, Chairman and Chief Executive Officer of Fisker.
As the company lays out a rapidly accelerating production plan, quarterly losses continue to pile up. Fisker said its net loss totaled nearly $150 million.