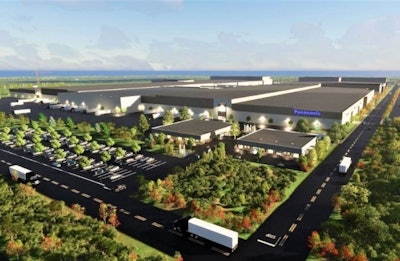 Panasonic
Panasonic Energy began construction on a new lithium-ion battery manufacturing facility in De Soto, KS, following the approval by Panasonic Holdings Corporation Board of Directors. The project will drive significant economic activity and opportunities for the local Kansas economy making the state a key player in the domestic electric vehicle (EV) industry.
Facility construction is focused on rapidly ramping up manufacture of "2170" cylindrical Li-ion batteries to meet surging domestic EV battery demand. Panasonic Energy plans to begin mass production in Kansas by March 2025. Upon completion of the facility, it will maintain annual total production capacity of approximately 30 GWh to supply EV manufacturers across the United States.
The facility will be located at the Astra Enterprise Park site and will once again make the location a key economic driver for the region. Two contractors from the local Kansas City area, Emery Sapp & Sons Inc., and Kissick Construction Co. Inc., have been awarded contracts for site preparation, with Panasonic Energy expecting to onboard additional firms in the coming months.
Kansas's skilled manufacturing workforce, reliable infrastructure, and central location in North America makes it an ideal location for this facility. The facility is expected to create up to 4,000 jobs. Recruitment for the first positions is expected to begin mid-2023.
The new battery manufacturing facility will also support the company's commitment to contribute to society by reducing global carbon emissions. The factory is a demonstration of Panasonic's Green IMPACT initiative, which is aimed at reducing the company's own CO2 emission to virtually net-zero by 2030 and contributing to 300 million tons in avoided emissions by 2050.