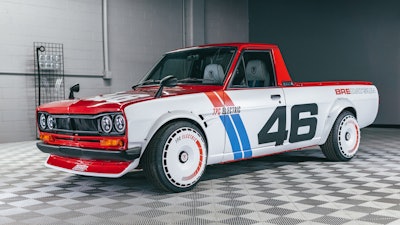 Nissan
At the 2022 Specialty Equipment Market Association (SEMA) Show, Nissan revealed a 1987 Sunny Truck that has been converted to LEAF all-electric power by South Carolina-based Tommy Pike Customs (TPC).
The 1987 Nissan Sunny, owned by TPC owner Tommy Pike, features the electric drive motor and 40-kWh lithium-ion battery pack from a Nissan LEAF. Rated at 147 horsepower and 236 lb-ft of torque, the LEAF motor has around twice the power and more than three times the torque of the gasoline four-cylinder engine originally equipped in the Sunny.
The LEAF-powered Sunny also includes a custom CNC-machined motor-to-transmission bellhousing adapter, a "Hakosuka" Skyline widebody kit, an aluminum battery box, custom driveshaft and an LED lighting conversion.
Nissan also showed off an Ariya Surfwagon concept that reimagines the 2023 Ariya, the company's first all-electric crossover, as a California-style surf "woodie" wagon. The vehicle includes a custom vinyl wrap featuring wood paneling and chrome trim along with "smoothie" 20-inch wheels with polished stainless-steel center caps, white-wall tires, a custom roof rack holding two 7-foot surfboards and a custom lowered suspension.