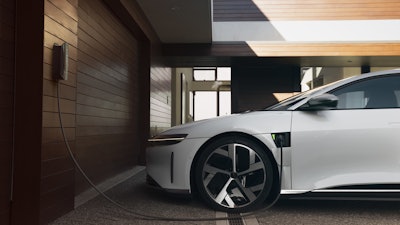 Lucid Motors
Lucid Group today announced the launch of Lucid Vehicle Accessories including the Lucid Connected Home Charging Station, which allows owners to maximize the charging capabilities of Lucid Air, adding up to 80 miles of range per hour of charging.
The first at-home charging solution from Lucid can support up to 19.2 kW of electrical power. The home station will effectively double the rate at which the Lucid Air can be charged when installed at full power compared to the included charging cable.
Lucid's in-house Design and Engineering teams set out to package the most amount of charging power into the smallest enclosure possible, resulting in a home charging system that is the size of competitive offerings while delivering 19.2 kW. The compact new system is encapsulated in a black casing built to be wall-mounted either indoors or outdoors. The station connects to the vehicle with a lightweight 24-foot charging cable designed to be thinner than those of competitors to improve the home charging experience.
The charging station is equipped with hardware ready for bi-directional electrical power and is Wi-Fi enabled for future over-the-air updates. This product serves as the first offering to support Lucid customers looking to integrate their vehicle into the company's future energy ecosystem.
The company also announced the Lucid Air Cargo Capsule, which adds 11.47 cu/ft of cargo space to Lucid Air's 32.5 cu/ft of interior cargo space, a capacity increase of more than 33% without the need to fold the rear seats.
The capsule, composed of a sculpted ABS shell, is exclusively available in black and finished in split gloss and matte black finishes with a gloss black Lucid logo. The capsule can be opened from either side of the vehicle for easy access to the additional storage space and offers interior lighting for visibility in low-light environments.