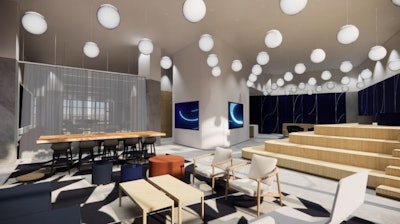 Ford
Ford Motor Company is opening the Ford Atlanta Research and Innovation Center (FARIC) to advance the company's digital transformation in areas such as software-led connected vehicles, artificial intelligence, university research and more.
Aside from serving as an innovation hub and delivering software solutions, the FARIC team will also focus on increasing Black, Hispanic and female representation in software engineering and high technology careers. Strategies include:
Leveraging relationships with regional Historically Black Colleges and Universities (HBCUs) and The Atlanta University Center Consortium to help make high-tech career opportunities more available to diverse students
Continuing to create and deepen relationships with regional colleges and universities, including HBCUs and Hispanic Service Institutions, to conduct pioneering research and address Ford's growing need for the new competencies required for electrification, connected vehicles and software engineering that are revolutionizing Ford products, technologies and services
Creating flexible, non-traditional career pathways for people interested in pursuing software and high-tech careers, including co-ops, internships, part-time work, and non-degree software programs in collaboration with Atlanta-based TechBridge and community partner City of Refuge
The 24,000-square-foot FARIC space is designed to surpass standard ADA compliance with an accessible layout that supports inclusion, flexibility, collaboration and innovation.
The all-new workspace supports individual needs while promoting creativity and team collaboration through an open and accessible floor plan designed to support the needs of a diverse and innovative team. It includes individual focus space, sit/stand desks, soft seating, and phone booth-style space where employees can take calls or work independently.