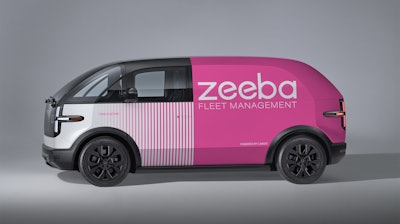 Canoo
Canoo and Zeeba, a national fleet leasing provider, have signed an agreement for Zeeba to purchase 5,450 American made electric vehicles, with an initial binding commitment of 3,000 units through 2024. Zeeba will add Canoo Lifestyle Delivery Vehicles (LDV) and Lifestyle Vehicles (LV) to its long-term fleet leasing portfolio.
Canoo vehicles feature a panoramic front window to improve road visibility and utilize true steer by wire technology, resulting in more usable interior space and better driver ergonomics. The LDV combines 120 cubic feet of cargo volume with an 80kw battery pack with the handling and turning radius of a small passenger vehicle.
Zeeba provides fleet solutions so SMBs can focus on their products and customers and not worry about mobility. The Canoo LDV and LV modular design enables Zeeba to provide client-specific configurations that can be upfit to different use cases over the vehicle lifecycle.
"We are thrilled to be able to deliver Canoo vehicles to our customers in the near future. We are focused on offering the most advanced fleet solutions and have recognized Canoo's vehicles as leaders in technology driven sustainable mobility. We also wanted to secure EV vehicle supply for years to come," said Kayvon Marashi, Chief Executive Officer for Zeeba Automotive Group, Inc.
Zeeba will deploy Canoo LDVs and LVs to their SMB customers who look for customizable options when configuring their fleet, meeting their sustainability goals and benefitting from competitive operating cost. The LDV & LV will be used by customers in the last mile delivery space, mobile goods, ride hailing, food delivery, trade professions and more.