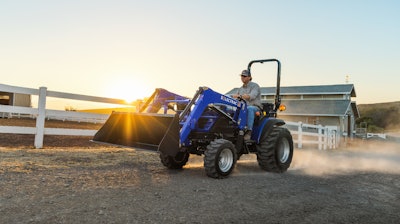 Ideanomics
Ideanomics, a global company focused on accelerating the commercial adoption of electric vehicles (EV), announced that its subsidiary Solectrac is continuing with the expansion of its certified sales and dealer network.
For the first time, Solectrac climate-smart tractors are available in Hawaii, Maine, North Carolina, Pennsylvania, Tennessee, Texas and West Virginia. The company also continues to strengthen its position in California with two added dealers. Customers can now find Solectrac tractors coast to coast across the U.S. at 38 locations.
To support its expanding number of dealers and growing customer base, Solectrac has developed an online total cost of ownership calculator called SolecSave. SolecSave provides customers with a clear picture of the total cost of owning an electric tractor vs. a combustion engine tractor and provides information on available incentives and grants to buy an electric tractor. This tool is the latest example of how Ideanomics and its subsidiaries are providing customers with resources to navigate the complexity of fleet electrification, such as WareSmart for warehouse operators in Southern California.
Solectrac is developing several additional new tractor models with plans to introduce the first new model in 2023. The company recently moved into a new, larger facility, which will enhance its manufacturing and assembly capacity once up and running including a well-stocked parts warehouse and service training center. Additionally, Solectrac established a partnership with Nolan Manufacturing to support its growing demand along the east coast.