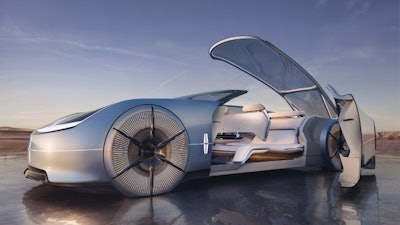 Lincoln
Lincoln this week debuted the Model L100 Concept, an autonomous vehicle that replaces the traditional steering wheel with a "jewel-inspired chess piece controller."
The Model L100 Concept uses next-generation battery cell and pack technologies, which the company said will deliver improved energy density and enable efficient, structural integration by treating the entire vehicle as a system. The approach will help maximize the interior cabin space.
"Concept vehicles allow us to reimagine and illustrate how new experiences can come to life with the help of advanced technologies and allow our designers more creative freedom than ever before," said Anthony Lo, chief design officer at Ford Motor Company. "With the Model L100, we were able to push the boundaries in ways that evolve our Quiet Flight brand DNA and change the way we think about Lincoln designs of tomorrow."
An interactive, center console chessboard features the controller that "captures light and depth by redefining the vehicle controls inside the cabin."
Social seating configurations allow for passenger engagement that can be tailored for the occasion. The front row seats can be flipped forward to create a social setting, in which front passengers can sit across from rear passengers.
The L100 features a glass roof, reverse-hinged doors and smart wheel covers that use lighting and sensors to communicate motion, battery life and human presence. Lincoln said the car "senses the client upon approach and enables the light symphony to follow the client around the vehicle by leveraging an advanced, artificial intelligence system and GPS sensors to curate the experience."
The interior of the L100 includes a digital floor, canopy and ambient lighting that "harmonizes with sound, scent and touch...to transport passengers to the sanctuary of tomorrow."