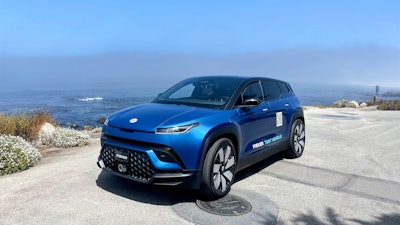 Fisker
Fisker said current Ocean production numbers of 50,000 per year may expand in 2024 due to strong consumer demand from across the globe.
In July 2022, the 5,000-unit Fisker Ocean ONE limited launch edition sold out globally in 30 days, and the waitlist, should any become available, numbers more than 1,000. The Fisker Ocean Sport base model and mid-level Fisker Ocean Ultra followed suit, with potential binding orders for the 2023 U.S. allocation for both trims selling out in a matter of days earlier this month. Fisker currently has more than 58,000 reservations (inclusive of firm orders) for the five-passenger, all-electric SUV, with at least 80,000 reservations projected by the end of the year.
Fisker confirmed its full-year 2022 guidance on August 3, 2022, and the November 17, 2022, planned start of production for the Fisker Ocean remains on track.
The top trim Fisker Ocean Extreme travels 350 miles on a single charge, with dual-motor, all-wheel-drive, three driving modes, a 17.1" rotating screen featuring gaming in HMI, SolarSky roof, California Mode, Smart Traction, and many safety features including a digital radar, all for $68,999.