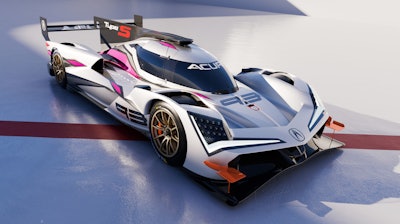 Acura
Acura Motorsports today released the first official images and details for the electrified Acura ARX-06 prototype sports car, which will make its competition debut next January in the Rolex 24 at Daytona.
The latest in a line of Acura endurance racing prototypes, the ARX-06 features Acura-specific bodywork and aerodynamics based around an all-new ORECA LMDh chassis which uses an electrified hybrid power unit featuring a twin-turbocharged 2.4 liter V6 internal combustion engine designed, developed and manufactured by Honda Performance Development, the racing arm for Acura Motorsports in North America.
"Precision Crafted Performance is at the heart of everything Acura does," said Jon Ikeda, vice president and Acura brand officer. "If you're a performance brand, you have to go racing. It's that simple. Both the existing ARX-05 prototype and our production-based NSX GT3 have proven to be race- and championship-winning designs on tracks all across North America. Now, with the introduction of the new, electrified Acura ARX-06, we look forward to facing off against other premium automotive brands from around the world – and continuing our winning ways."