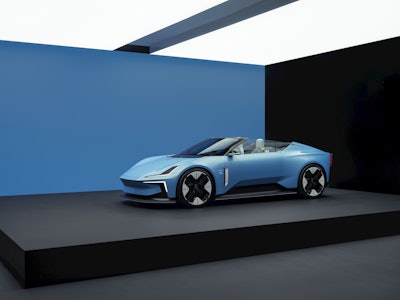 Polestar, a Swedish electric car company, plans to put the Polestar electric roadster concept into production.
The production car is expected to launch in 2026 as the Polestar 6 electric performance roadster. Interested customers in all active Polestar markets are able to reserve a build slot online starting August 16, 2022.
Revealed in Los Angeles in March as the Polestar O₂, the electric roadster concept builds on the design, technology and sustainability ambitions laid out by the Polestar Precept and showcases the brand's vision for future sports cars.
The hard-top convertible will be built on Polestar's bonded aluminum platform. Developed in-house, it will feature the high-performance, 800-Volt electric architecture already confirmed for Polestar 5. This includes output of up to 884 hp (650kW) and 663 lb-ft (900 Nm) from a dual motor powertrain, a targeted 0-62 mph (0-100 km/h) sprint time of 3.2 seconds and a top speed of 155 mph (250 km/h).
To celebrate the launch, 500 numbered units of a special 'LA Concept' version, the 'Polestar 6 LA Concept edition', are planned to be produced. They will exclusively feature the unique 'Sky' blue exterior, light leather interior and unique 21-inch wheels of the original Polestar O₂ concept.
Further technical details and specification confirmations will be released as the production car becomes reality, leading up to the expected launch in 2026.